Welcome to the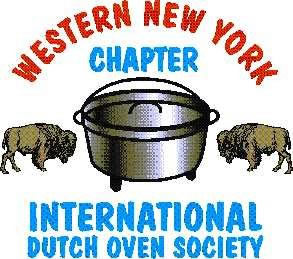 Our primary mission is to promote and encourage the art and skill of Dutch oven cooking, and to provide education regarding the benefits and methods of Dutch oven cooking.
The Society officers are
Chapter Director..............................Stan Kowalski
Assistant Director..........................Marty Odachowski
Secretary.......................................John Jones
Treasurer...........................................Susan Kowalski
Dog Warden.................................Tom Merlihan
Webmaster................................Rick Hanes
Helpful cooking & Dutch Oven hints

IDOS is planning a new COOKBOOK and Leslie Tennessen will be driving it. It will be an IDOS cookbook so that's where the revenue will go. This will be a Dutch Oven specific cookbook as opposed to any-old-thing that can be whipped up on a stove. If you have a recipe, this would be a great place to have it published. They would REALLY like to see regional recipes (what can you do with a kielbasa?). Got a great and original recipe? Send it to Leslie at … idosbackyardcookbook@yahoo.com

October 2014 - While we're at it, The northeast Region has just begun planning for a Pumpkin Festival and East Coast DOG and Cook Off to be held in Bird-in-Hand (Lancaster County, PA) the last weekend of October this year. Is there anyone from the Western New York Chapter that would like to join the planning team for a recurring Tuesday conference call? John Smucker (host of the Bird-In-Hand Inn) is the host so we have the venue and date. Now we need to get into the guts of the planning. We're going after local sponsors as well as Camp Chef and Lodge and maybe try to get Bass Pro Shops on board or one of those guys (Cabelas or Field & Stream). If you or someone from your chapter could join that would be great. The conference number is (605) 475-4000 and we'll start at 7:00 PM. So far I have both Mike's from Susquehanna, Peter Langston and Craig Small from Old Dominion in VA and Dan Milam from South East Campers in North Carolina. My son is also on the team. I'll also extend the invite to the chapters in Ontario, Ohio, and Long Island.

2014 Minutes of Annual Meeting

2014 DOG Schedule

2012 Snow DOG's & Annual Meeting Pictures

2009 & 2010 & 2011 DOGS & Training Sessions

Some Links to other Dutch Oven Areas

The International Dutch Oven Society

The 2008 National Dutch Oven Round-Up

Greater Wasatch Dutch Oven Society

Southern California Chapter International Dutch Oven Society

Three Rivers Cast Iron Cookers

Byron's Dutch Oven Cooking Page

Kast Iron Kookers of Mississippi

Dutch Wagon: Modern Chuckwagon for Dutch Oven Enthusiasts

Salad Recipes Ideas = Information on Salad Recipes, Salad dressings and Salad Ingredients.
Please return soon for more updates and information on the Western New York Dutch Oven Society.
Thank you for visiting our site.