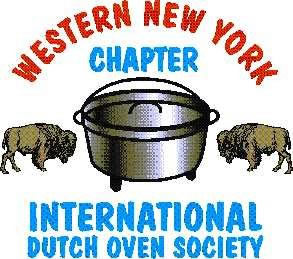 ---
GNFC Polaris District Camporee ... October 18th, 2003 ... Camp Stonehaven, Sanborn NY
Here was our "mission" for our participation at the Camporee. :
To provide 2 different and distinct Dutch oven stations, each serving different foods with demos and hands on "training" for the scouts.
I believe we carried out the mission. ... :-)
---
The "we can cook anything in a Dutch Oven crew" consisted of Dennis Wheeler, Katie Dimitrov, Kevin Backstom, Patrick Backstrom & ... Bill Wheeler.
The menu consisted of: Pizza, Sweet Potato French Fries, Idaho French Fries, Mushroom, Zucchini, Acorn Squash, Onions, & Bananas. Personally I was curious how the bananas were going to turn out being deep fat fried, but never even got a chance to try one ... the boys coming through the demo area ate them all up before I could get a chance. I guess that means they turned out OK. ... :-) Basically we had a couple Dutch Ovens going with hot cooking oil & put just about anything we could find on our kitchen table in to see how it would turn out ... and most everything came out great. At least considering there was nothing left on the serving trays led me to believe this. ...
The pizza was made using Pizza dough, rolled biscuits & even a couple frozen pizza's ... these all turned out good. There was quite a number of questions as to why the ovens were upside down on the coals, and lifting the "bottoms" off the lids while they were on the fire to show the pizza's cooking on the lids never failed to bring a look of amazement. I merely explained to have fun cooking while out camping that they only needed to think outside the square, or round, as the case may be. ... :-)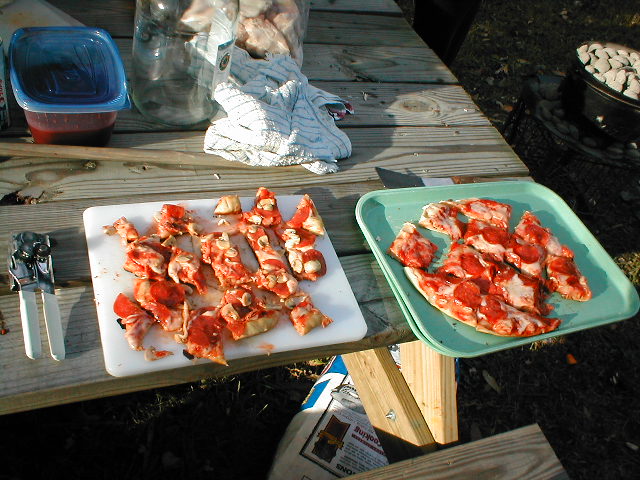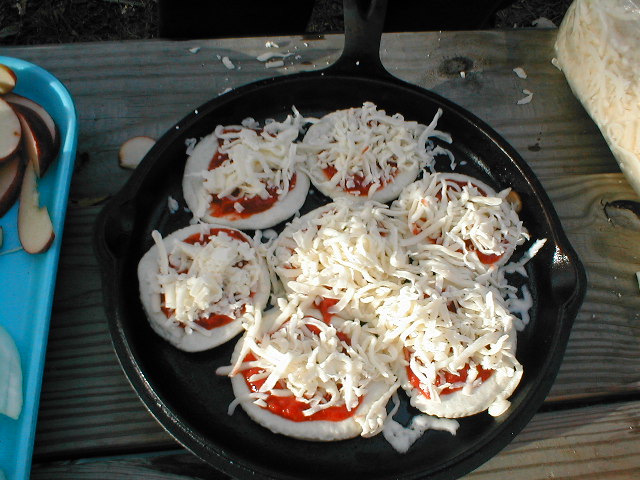 ... and here's proof that food brings people out of the wood work ... :-)
The notorious Paul Brodzik ...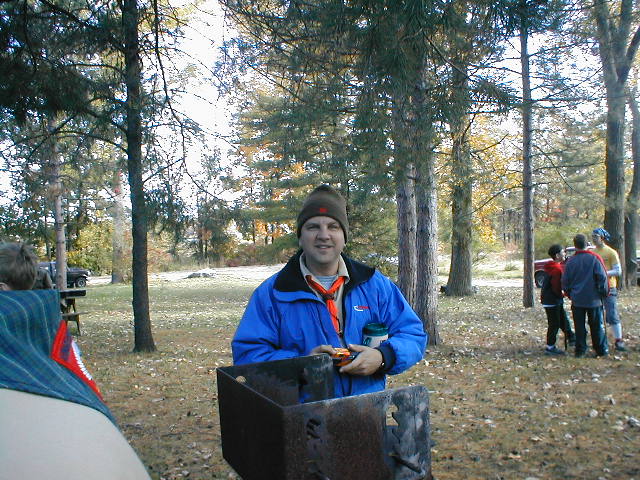 ... and Rob Reeves ... aka "Clem". Rob just returned last Wednesday from solo-hiking the Pacific Rim Trail. He did the Appalachian Trail a couple years ago, ... not to mention hiking Philmont Scout Ranch in his "younger" days. I understand he came out to the Camporee for the food. ... :-)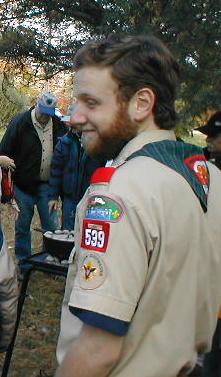 Kevin, Patrick & Dennis:
... and having this person showing you how to use a Dutch Oven sort of makes you want to learn ... :-)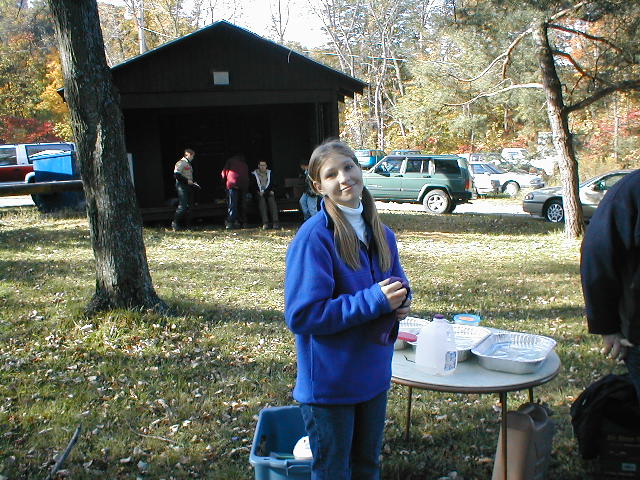 Chicken Wings ...
before ...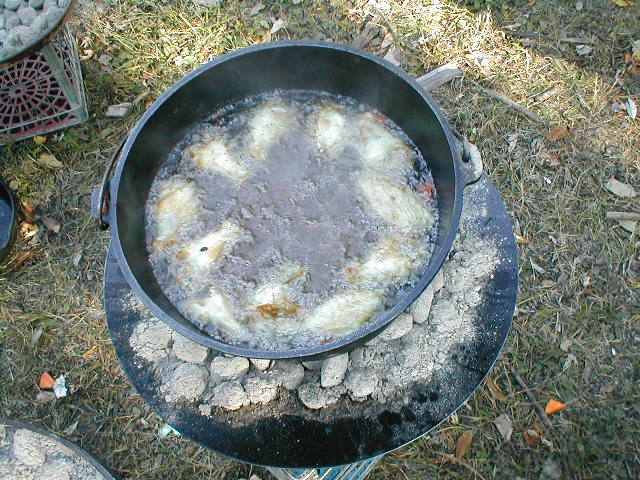 ... and after ...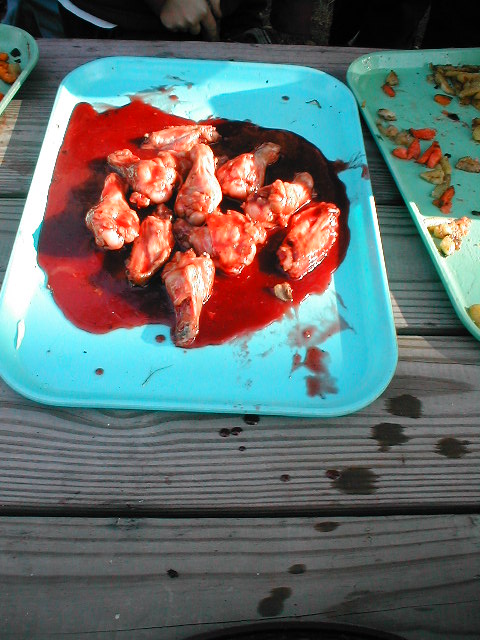 Give these kids 2 minutes & these trays will be empty ... :-)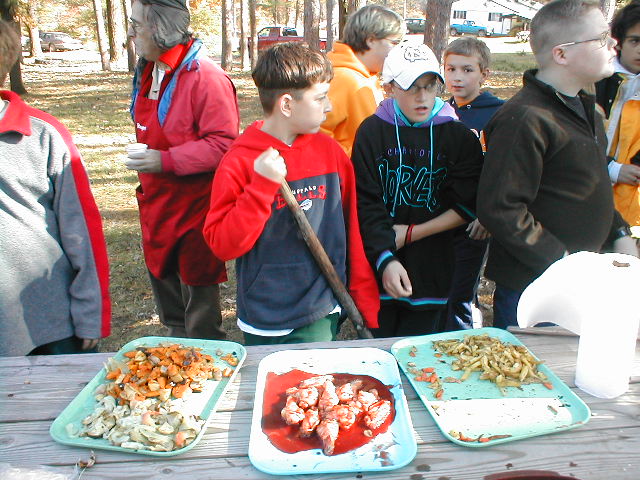 ... and then there's the fun job of cleaning up afterwards ... :-)
---
The "professional" crew led by Mr. Horton had a great demo area set up. Organized, well equipped, and as expected came through with awesome food that the leaders & boys all gulped down like they hadn't eaten in days. Funny thing about Scouting, seems like everyone's always got a bottomless pit & passion for food. ... :-)
The menu at this station consisted of Chicken Pot Pie, Peach Cobbler & Home Made Bread. ... As they say on TV, it was "oh so good". ... :-)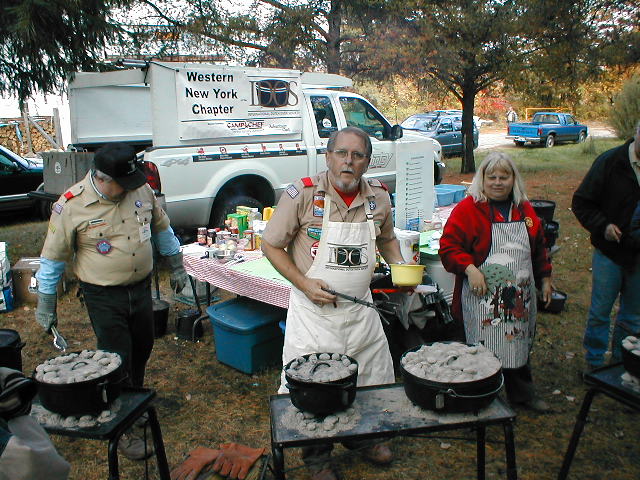 This is the beginning of an awesome Chicken Pot Pie ...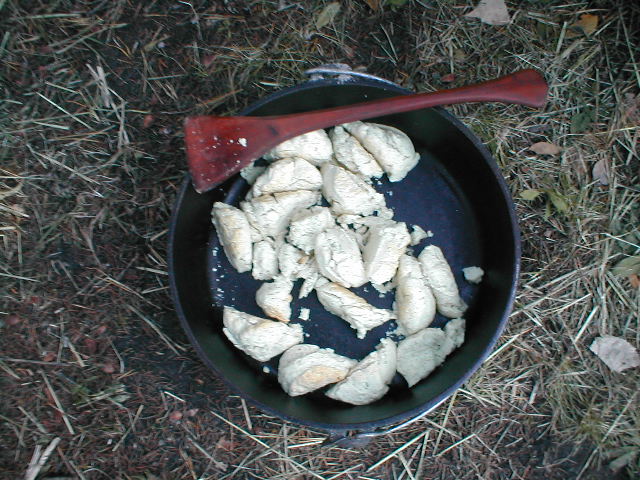 ---
Last but not least .. a scary scene ... one that will always ensure laughter & fun ... and good food.